48 degrees Fahrenheit; the sun didn't come up until 7am; the leaves are changing all over the neighborhood; I did indeed prune the hydrangea yesterday morning…. The flowery  summer wreaths are off the doors — replaced with the ones for fall. I put away the porch furniture.
Now all I have left to do is wait for summer to get here…
All righty! I won't get far with that attitude, will I? No.
So instead of wishing that life were totally different, I'm going to spend the day ignoring the world beyond Crazeysburg and just doing non-writing work today:
finish formatting 1954 Powder Blue Pickup and send it off to the publisher today.
fix the formatting on the print edition for The Guitar Hero Goes Home. And then upload it to Amazon and hopefully stop tinkering with it and keep it there once and for all.
set up the web site for Marilyn's Room Books and get that up and running.
Even though I will no longer be self-publishing any of my new erotica (which I am extremely happy about!), I will still put up the Marilyn's Room Books site because I want all of my available titles to be in one place, regardless of who the publishers are.
Plus, I'm still planning to self-publish In the Shadow of Narcissa, since it's not erotic. And also bring out a new print edition of Twilight of the Immortal.
If I'm not mistaken, gang, Girl in the Night: Erotic Love Letters to the Muse is going to be brought out in print and eBooks by the new publisher. (So that means I will finish writing it before the end of the year.)
But before that, I'll be sending them The Muse Revisited, Volume 4 — yay!! But instead of it being strictly a print edition of my selected erotica from 1994 -2012, it's going to be print and digital, and focus on my previously published hardcore BDSM stories, along with a brand new one that I will write here at any moment!!
So all of it is really exciting to me, gang. It really, really is.
Meanwhile, though, I just now realized (because I'm not dressed yet) that I am still wearing my summer PJs to bed every night. I suppose I have to make an adjustment there. Drag out the fall PJs.
It's funny, but for most of my adult life, I hated summer — because I lived in NYC and I have a very low tolerance for high humidity. It makes me super cranky and makes my brain feel like it's going to explode. And NYC summers are usually just the worst.
But ever since I moved into this amazing old house in the middle of nowhere, all of that has changed (mostly because of that man I fell in love with that first summer I lived here who died; he changed summer for me forever) — honestly, honestly, honestly; I cannot emphasize how much in the middle of nowhere this house is, gang. When you get off the highway that leads to the 3-mile, winding back road that leads to my village, there is a really big freeway exit sign and it says "LOCAL ATTRACTIONS" and there is absolutely nothing written on that sign! I'm so serious. It's just amazing. Nothing is on the sign. It's just a big blank sign. NOTHING is here, folks!!
However, there used to be a famous homestead out here but it's been closed down, so they removed the listing but left the huge sign. (In fact, if you were to google my village, you'd discover that it was once home to the world's largest apple basket — but no more. I have yet to lay eyes on that basket (below) because that homestead was closed down! Yet google seems to think it's emblematic of where I live!)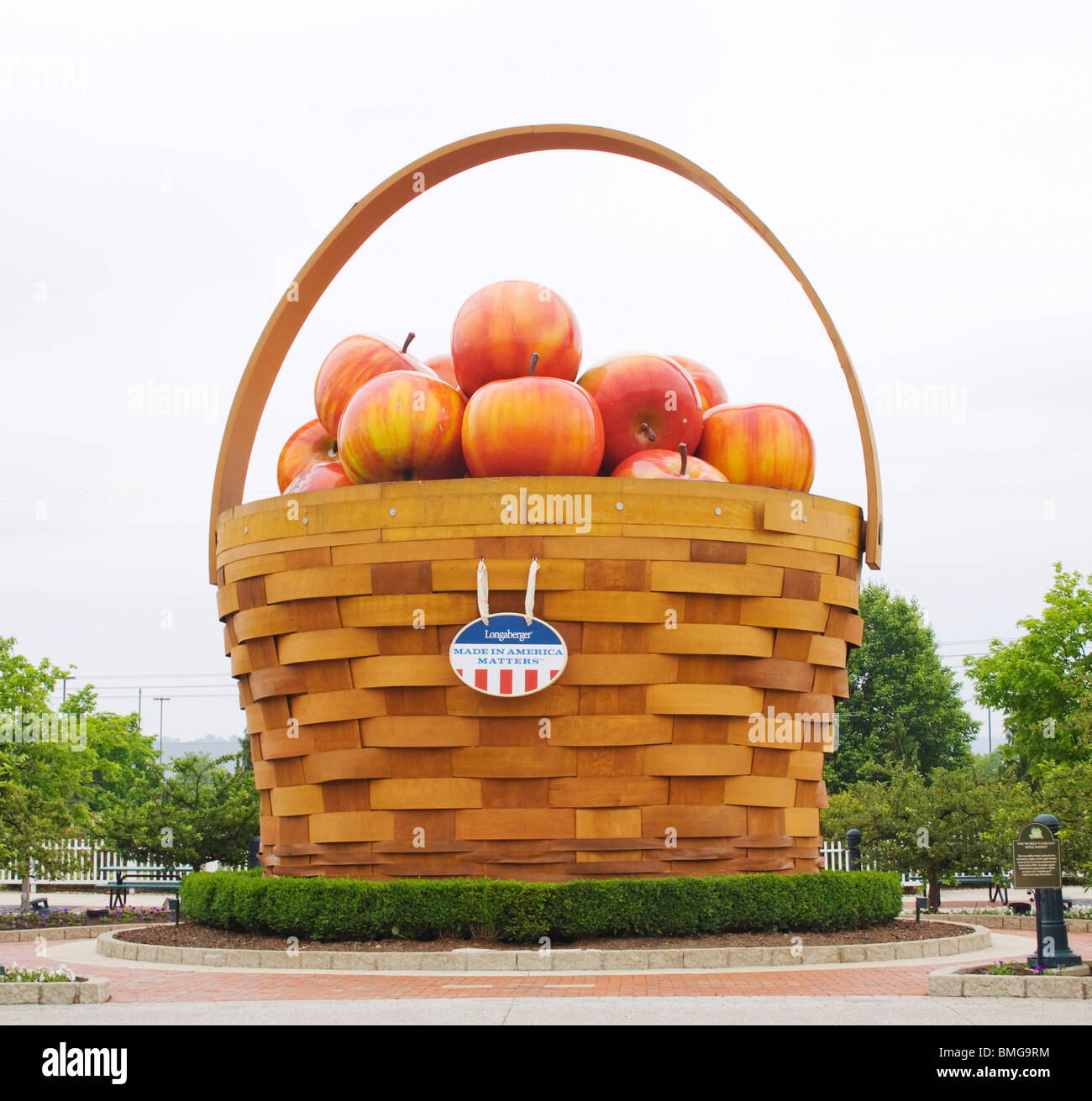 So I'm guessing that, once I'm dead, the one thing on that freeway exit sign will be my house that will, by then, be a famous museum… (Probably because I was insanely crazy, had a house full of dead spirits talking to me all the time and had too many undomesticated cats, but I would prefer it to be a standing homage to my splendid writing…)
Yeah, well…
Okay, on that happy note… I refuse to talk about politics or the debate.  I refuse to even think about it. I will simply buy a gun, I mean, VOTE, and get on with my life.
And now I will even get dressed and get to work around here. (Just FYI, I never sit down at the desk to blog before getting dressed, so I'm not sure what's up with me today.)
Anyway.
Have a nice Wednesday, wherever you are in the world, gang. Thanks for visiting. I leave you with probably my most favorite Buddy Holly song from my wee bonny girlhood (even though I pretty much liked all his songs), "Everyday"  (1958) — because I want to feel hopeful about love, like when I was young (yay!!), instead of depressed by its utter absence around here, now that I'm old (yay!!)! So enjoy. I love you guys. See ya!!!