You know, I started working out religiously when I was 12 because, culturally, it's just what you did. You were supposed to stay fit. Not because you needed to be "fit" at age 12, but because you were setting up good habits for the rest of your life. (Seriously.) (And this was before junk food and fast food took over the whole nation. I actually did not know anyone, yet, who was overweight.)
It's sort of weird, right? How my entire life seems to have been about making sure I look really good when I finally die.
But, anyway. By "culturally" I'm talking about upper-middle-class white Midwestern America, because that's what we were when I was 12. In 1972.
And I wouldn't have dreamed of not working out. I was told to work out, so I did. Back then, it was calisthenics.  In fact, when I was 11, I won one of those  President's Physical Fitness awards in gym class, which was all about calisthenics. The award was a congratulatory letter from the President of the United Sates and a patch that looked like this (mine was a "1" not a "3"). And when I won mine, guess who was President??!! Nixon. (Man, I wish I'd kept that letter!) Anyway, it looked like this: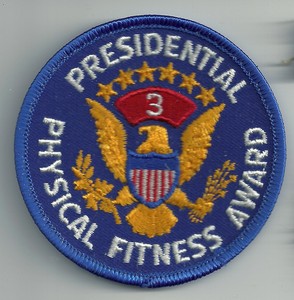 So, from a wee bonny age, even the President of the United States, marred as he was by scandals that seem so harmless nowadays, urged me to get off my tiny butt and stay in shape!
And so I've just always done that. For a long time, it was calisthenics. And I mean, a really long time. And then, in the 1980s, it was aerobics. That was the craze. I did that for years, and that was actually really fun. In fact, Cher made a couple of aerobics videos that were really great. I loved those.
I also got into "the gym" stuff–free weights, rowing machines, stationary bikes, treadmills. I loved all that stuff. (Except when it came time to get rid of them. That part is never fun.) (And I recall one afternoon, when I was still living in the hellhole tenement apartment on E.12th Street in the East Village, one of my 5 lb. free weights accidentally rolled out the open 5th-story window, and as I was racing down 5 flights of stairs to get to the street, I'm envisioning someone dead on the sidewalk with a fractured skull, and me facing Manslaughter charges and a trip to Rikers Island, all expenses paid by the City of New York… but what I found, thank god, was a little Puerto Rican boy, walking off with it and I had to beg him to give it back, as he loudly proclaimed the "finder's keepers" rule.)
Anyway!!! Yes. So, I have been doing yoga now for about 13 years. It has kept me sane and it also helped me stop drinking myself to death, back when I first moved back to Ohio to look after my ailing adoptive mother, and then found out that I had made just a horrible error in judgment. Moving back here was just a terrible, terrible mistake.
And since the ill-advised move back to Ohio coincided with the man I loved turning out to have a horrible gambling habit that wiped me out of my entire life savings — including a $9000 check from the insurance company to get a new roof put on my house (as much as you might truly love somebody, you know, think really, really hard about giving them one of your ATM cards. Seriously. Or, if you do, then check your bank balance, like, every 5 minutes.). And that horrible thing happened right when the world economy tanked and ravaged the publishing industry, putting 4 of my primary publishers out of business on the very same day…
Yes, when all of that happened at once, and I woke up every single morning wanting to commit suicide (and I continue to give thanks to the beautiful and gifted writer/publisher/editor Sean Meriwether in NYC — of Velvet Mafia fame — for taking so many of my distraught phone calls back then and helping me not kill myself) — well, I ultimately chose heavy drinking instead. And, you know, that's gonna kill you, too. So truly, yoga saved me. It did. A couple of my girlfriends back in NYC who were really worried about me persuaded me to at least try yoga, and I wound up loving it on so many levels and it did really save my life.
So I've been a yoga-type gal for 13 years now. But yesterday, for whatever inexplicable reason, I decided to buy a 21-day video Pilates-type workout program, called Booty Core. I'm not sure what possessed me to suddenly switch it up — I'm not, like, obsessed with my butt or anything. I'm not even obsessed with working out; it's just something I've always done. But you know what? I'm pushing 60 now, and back around the holidays, I was hanging out with a female friend who is 32. And a pen rolled off the table and down to the floor and then under the bar a little bit. So I got down on the floor — actually knelt all the way down and reached under the bar and got the pen. And she was literally aghast. She said, "How did you do that? At your age?"
I was, like, mystified. "How did I do what?"
"Get all the way down on the floor like that and then get right back up?"
Jesus, you know? I just found that so weird.  And then she said, "I can't even do that!" And she's only 32-fucking-years old! It was just so weird. And I guess I thank god for President Richard Milhous Nixon and all the good habits he instilled in me — and trust me, that's not  a thing I ever thought I would find it in me to say.
So. I'm gonna try Booty Core for 21 days and see if maybe I can pick up a lot more pens from the floor!
On another topic.
Only a couple of photos posted to Instagram last night from the first Conversation in Brussels with Nick Cave. Although there were quite a few posts, but only, like, 2 people actually took photos during the show. But everybody who posted, of course, loved it. And it sounds like maybe he's doing a few songs from Ghosteen now. (?) Tonight is the last night of the Conversations tour. I'm guessing he will continue to have conversations,  but none that we are invited to attend (even if we pay him!!) and that just sucks!
I am going to go out on a limb here and encourage you to never attend a Conversation with Nick Cave. Because then you will never, ever want it to end. (And if you slavishly follow the posts on Instagram, as I do, you will see that I am not the only one who says this!!) I imagine that, if for some inexplicable yet heavenly reason, I ever ran into him on the street, I would dig out whatever loose change I could find in my pockets, hand it to him and try to get him to answer a question for me. Any question. (ME: "Here!! I have 14 cents. Will you please tell me what it was like the first time you had –")
Because his answers are awesome.
Which reminds me, that the very moment I posted to the blog here yesterday, Nick Cave sent out another one of his Red Hand Files letter things. And it was uncanny. Whoa, like, it made me want to go right back to the blog and remove my post. If you recall yesterday's post, it was all about my trying to come to terms with how fucking strange my writing always is.  And yesterday's Red Hand Files was all about whether or not you had to be mentally ill to be a great artist…
Anyway… my own fucking insanity aside, it was another really great Red Hand Files, because he is just so eloquent.  And I'm just so frustrated that his In Conversations are going to end. Again.
Okay. I really gotta get moving here. Peitor will be calling from West Hollywood momentarily because we have to work on our micro-script and, of course, now the pressure feels sort of intense. Like, you know, we actually have to finish this darn thing, make the video, then make about 8 more…(!!)
For whatever weird reason, this song was in my head the moment I woke up this morning, and so I played it throughout breakfast and I'm leaving you with it today!! From the 1960 Broadway musical Camelot. (Yes, the very year I was born.) "How to Handle A Woman." As sung here by Richard Burton. Okay, thanks for visiting, gang. I hope today is good to you, wherever you are in the world!! I love you guys. See ya.
"How To Handle A Woman"
"How to handle a woman?
There's a way, " said the wise old man,
"A way known by every woman
Since the whole rigmarole began."
"Do I flatter her?" I begged him answer.
"Do I threaten or cajole or plead?
Do I brood or play the gay romancer?"
Said he, smiling: "No indeed.
How to handle a woman?
Mark me well, I will tell you, sir:
The way to handle a woman
Is to love her… simply love her…
Merely love her… love her… love her."
c – 1960 Lerner & Loewe