The Nick Cave website announced this morning that on July 23rd, a "live stream" concert with Nick Cave, performing alone at the piano in Alexandra Palace in London, will stream on the DICE app!!
It will stream in 3 different global time zones so check that link above there for details. I don't know what the global exchange rates are, but for the US ticket, it was only $20. (And seating is only limited by the number of people who can sit on your phone at once!!)
As luck would, of course, have it, July 23rd is my dad's 90th birthday and I will be driving home from Cincinnati that evening, but oh well.  It's always best to have nothing whatsoever to do for months, and then cram all upcoming events into the same day. (My life seems to excel at that, with or without a pandemic.)
But I am, of course, very excited, and will endeavor to not speed more than my customary 95 mph the entire 100 miles that it is between my dad's place and my home.
Yay!!!
I got some more good-ish news yesterday. Sandra called to tell me that she's having a phone conference today with the theater company in Toronto  that will be producing our play  (this one is mostly her play, about her life; but I'm a contributing writer on it and we've been collaborating on it for something like 7 years now. Literally. It was supposed to be produced in Toronto this Fall, however, as we all know too well by now, 2020 no longer exists in the abstract, only in the immediate upfront here & now, day after day after day, hour after unpredictable hour …)
Anyway!! I will be super excited to hear what they chat about. I'm guessing our production date will be reset for 2021, but no clue yet exactly when. (And rest assured, gang, that there are still a TON of rewrites needed for that play!! So I can't wait to be indescribably super busy again. It will finally feel like real life around here.)
Today is the day I'm supposed to chat with my accountant in NYC re: Abstract Absurdity Productions, but he never actually confirmed a time, so I'm not certain if it's happening today or not. We'll only know for sure  if the phone rings…
Meanwhile. Yesterday did not pan out as planned. Kevin (the Director of Tell My Bones) had to cancel our dinner plans for the Granville Inn, and instead, we'll be going there on Sunday evening. I was really disappointed because it has been 3 and 1/2 months since I socialized in any way and I was so excited for the chance to not only go out with someone but also to go to Granville, but that's how life seems to go these days. We'll do it on Sunday, instead.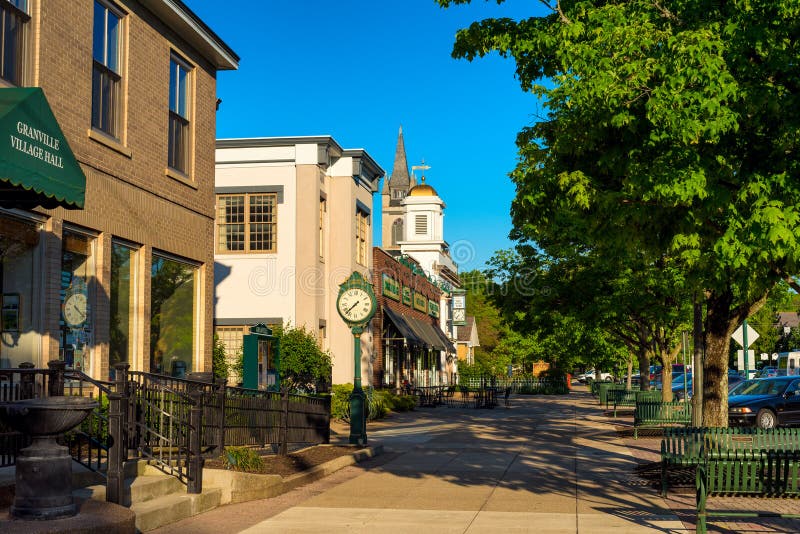 After I got off the phone with him, I went outside and took a walk — just to sort of focus on something else. It was just a gorgeous day. I took a bunch of photos during the walk and posted them to my Instagram account, but here are a couple them.
The first one  is of the train tracks in front of my house, but looking East this time — in the direction of Coshocton County, which is just a really beautiful county, gang. (You can't see it from here, it's too far away. I'm just saying that it is really beautiful there.)
And the second one is of the main street through the village. If you look way in the background, that hill is where there are always a bunch of cows grazing. By the way, by the time you're at that hillside, you are already over Wakatamika Creek and well out of the village.
I know the street looks deserted, but I actually waited for a bunch of cars to drive by first.
Plus, it was 90 degrees Fahrenheit yesterday and not a lot of folks were outside at midday.
Okay, well, gang. I guess that's it for today!! I hope you have a terrific Thursday planned for yourself, wherever you are in the world! Thanks for visiting!!
I'll leave you with the song "Idiot Prayer" — the title of Nick Cave's upcoming streaming event. It's a song I really like but I won't say why I like it so much. It's from the album The Boatman's Call — Nick Cave & the Bad Seeds, 1997. (This is a really beautiful album, gang, if you aren't familiar with it.  Some real heartbreaking gems on this album, plus the title is really easy to spell.)
So, listen and enjoy! I love you guys. See ya!
"Idiot Prayer"
They're taking me down, my friend
And as they usher me off to my end
Will I bid you adieu?
Or will I be seeing you soon?
If what they say around here is true
Then we'll meet again
Me and you
My time is at hand, my dove
They're gonna pass me to that house above
Is Heaven just for victims, dear?
Where only those in pain go?
Well it takes two to tango
We will meet again, my love
I know
If you're in Heaven then you'll forgive me, dear
Because that's what they do up there
If you're in Hell, then what can I say
You probably deserved in anyway
I guess I'm gonna find out any day
For we'll meet again
And there'll be Hell to pay
Your face comes to me from the depths, dear
Your silent mouth mouths, "Yes", dear
Dark red and big with blood
They're gonna shut me down, my love
They're gonna launch me into the stars
Well, all things come to pass
Glory hallelujah
This prayer is for you, my love
Sent on the wings of a dove
An idiot prayer of empty words
Love, dear, is strictly for the birds
We each get what we deserve
My little snow white dove
Rest assured
© 1997 Nick Cave