I used to love to drink and drinking used to love me — until I was about 42, or something like that. I don't know. Somewhere around there, it stopped being fun.
Still, it doesn't account for something astounding that I discovered yesterday. Because back in NYC when I was a songwriter — I never drank while writing. Nor did I ever do any drugs. I didn't even smoke. I never wanted anything besides maybe caffeine to assist my brain while I was writing.
Although I've always kind of secretly wished I could be like Kerouac, or Philip K. Dick, or Stephen King in the early days, and just get really fucked up and see what came out. Take a bunch of speed and just start churning it, you know? However, I was never like that. Even though I did at times do a ton of speed and a ton of drinking when not writing.
Anyway. I was fooling around with my guitar yesterday afternoon and I couldn't remember the chords to a song I'd written back in 1984 — a song that I played live for years. I was drawing a complete blank.
So I went to the storage closet and found the files that had all my old songs in them. And it was such a weird thing: there were quite a number of songs in there from the later days of my songwriting that I had no memory of whatsoever. And according to all the set lists I had stuffed in the files, too, I played those songs live a lot.
I even looked at the bottoms of the lyrics pages to see if maybe they were covers of someone else's songs, but they all had my copyrights on them. Clearly, I'd written them.
It felt so fucking strange. And reading over the lyrics — they were good songs. Although they looked like they leaned more towards country than folk, but still good lyrics. And yet I had no clue what the melodies were that went along with them. It was like I'd never seen those songs before in my life. And yet there were lead sheets printed up and stored in there and everything.
It turns out that every song I ever wrote from 1974 (!!!!!) until 1994 — when I finally stopped the songwriting and focused on fiction writing exclusively — are in those files. There are songs in there from the early 80s that I never actually performed because I didn't think they were very good — those songs I still remember perfectly — melodies and lyrics. I remember them; I just never really liked them. So the fact that a bunch of songs that I thought were good enough to perform (all the time) in the early 1990s– and I don't remember them at all?
It felt like maybe somewhere in there, I became another person. You know? Like I split off into some other probable reality. Something like that. I'm serious. It really felt like that. What woman who had my name wrote and sang those songs?
All the songs –except for one — that I wrote between 1970 and 1973 are gone forever because I lost that notebook somewhere after moving to NYC in 1980.  The one song that I still have from 1970 (yes, from when I was 10), I still have only because it was actually used in a short film that my Girl Scout troop made about air pollution for a huge conference on the environment that was held in downtown Cleveland that year. And the lyrics were also printed in the school bulletin, which my parents kept and then gave to me years later. (It's a rather political song, as perhaps you can guess, since it was about the environment. Cleveland had horrific problems with pollution. We had steel mills and the auto industry back then. Cleveland is also notorious for having had an actual river that was so polluted it caught on fire — yes, a river that caught on fire.)
So that one song survives. And I don't think I really need to see all the many songs I wrote from when I was 10 until I was 12 that are lost now. It would be cool, I guess. But I don't really need to ever see them again.
That said, though, the songs I looked at yesterday from 1974 — when I was still only 13 — were interesting enough, thank you. Jesus. And then I found songs in there from 1975 — when I was in the mental hospital for 5 months.  That's when I closed the files and walked away.
Until yesterday, I had no clue any of those really old songs were in there. I'd thought that anything before 1981 was lost for all time. I glanced quickly through the old songs but I didn't have the stomach to actually read them — especially those ones written in the mental hospital. I was only looking for chords for that one specific song from 1984, anyway — which I never did find. Although I found the original lyrics, which look like this:
So yesterday was really very interesting. I will probably look over those files again today, because I know the chords to that song must be in there somewhere. And I think I might force myself to read over some of those lyrics from over 40 years ago. Plus, I even found the lyrics to 3 songs that Peitor and I wrote together back in, like, 1986 or something like that. One of those songs is one we always really loved, it's titled "(I Can't Help It If) I'm Still In Love With You."
The demo was quite plaintive and little-girl-sounding. Tons of reverb on my angelic vocal and on his piano, and it had some sort of rain sound in the background, and the ubiquitous drum machine from those days. And the lyrics were essentially: you suck, the world sucks, my whole life now sucks because I met you in the first place and now you left me but I can't help it, I'm still in love with you.
That kind of thing — but not in those words, of course. Peitor and I had a blast recording that. It was funny to us but, you know, it was actually good. It wasn't a funny song — just funny to us.
Anyway. I guess it's good that I saved all this stuff. I can't imagine what if anything it really means to me all these decades later — to who I am as a writer. But I'm glad I've got them.
On the virus front: I'm feeling really good today…So here's hoping. One of these darn days, I have to be actually really well. Right?? Maybe today will be the day…
Okay. Here is the cover art for the forthcoming Marc Bolan tribute album, AngelHeaded Hipster (produced by Hal Willner who I think just died in NYC from the virus). This is the album where Nick Cave sings "Cosmic Dancer" — and sings it so beautifully. I don't even know how many times I've already watched the video. I just love it.
And I'm still loving that Bad Seed TeeVee. I'm still finding stuff on there that I haven't seen yet — or even seen before, ever.  It's just so cool.
And on a somewhat unrelated music note– have you noticed that everyone's buying ukuleles again? I mean, like, everyone's buying them. And they have all different colors now, all different price ranges, too. Of  course, the one I like best is the Epiphone Les Paul tenor acoustic-electric ukulele (below) — I'm not certain of this, but I don't think there's a more expensive one out there, so of course it's the one I love. I've come close to buying it several times already…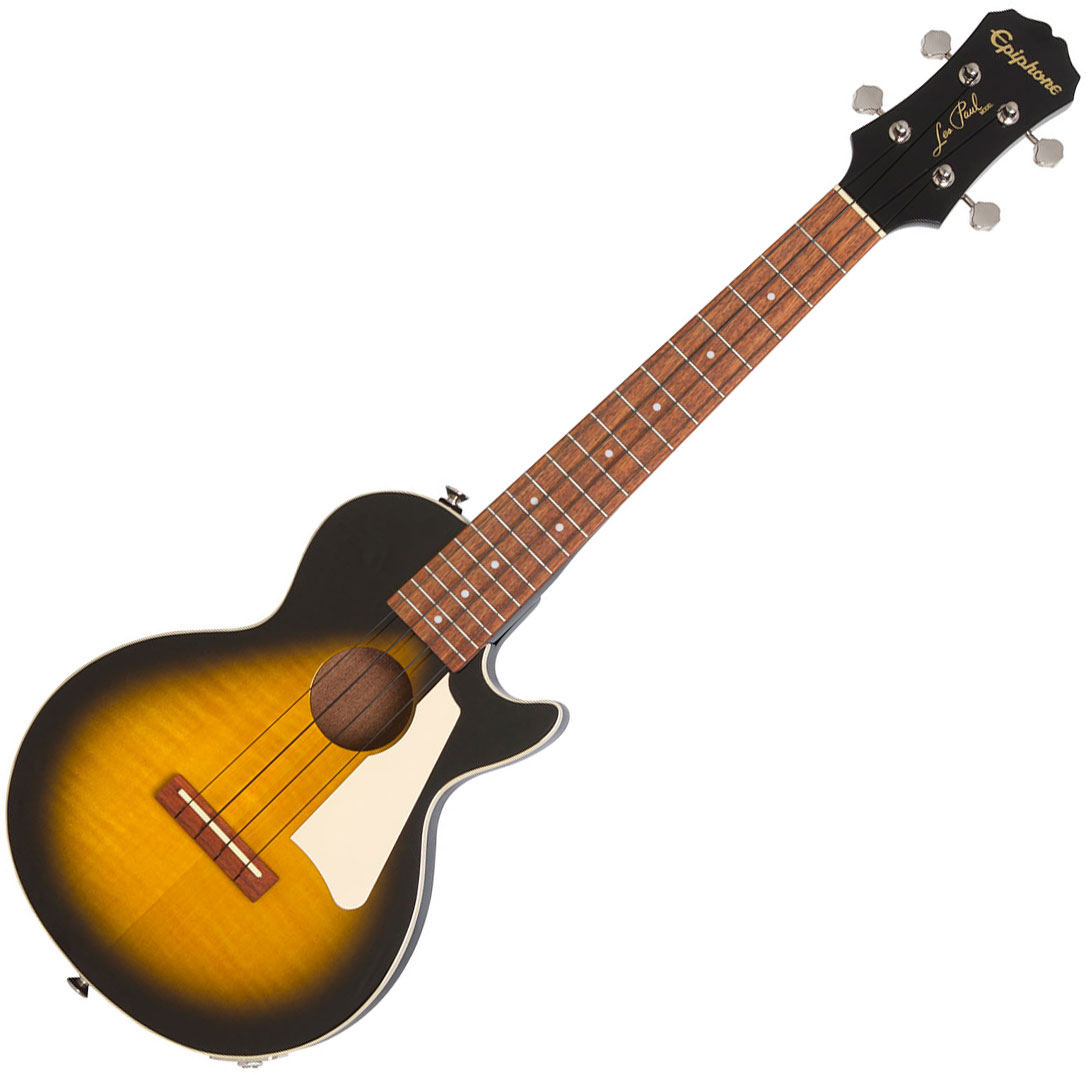 Anyway, on that note… I'm going to get Sunday underway over here. I hope yours is a good one, wherever you are in the world. I leave you today with probably the most famous/favorite ukulele song, ever. From the late Israel "IZ" Kamakawiwoʻole; "Somewhere Over the Rainbow." Enjoy, gang. And thanks for visiting. Make it a good one, okay? I love you guys. See ya.