And I am not being at all sarcastic when I say, "Thank you so much for downloading all those eBooks yesterday, for FREE!"
(God knows, I wouldn't want to be encumbered with all those royalties, or anything, had you chosen to pay cash…)
Of course, I'm just kidding! Loyal readers of this lofty blog no doubt recall that this same thing happened during the Christmas week last year, when all my eBooks were available as free downloads and the thousands of eBooks that were downloaded for free during that one week made my head spin. It astounds me that so many people still want to read the old erotica, paying or not.
Actually, I do want to take a moment to thank those readers who bought Twilight of the Immortal on Amazon in June! For some unknown reason, that book got a little popular again! I really appreciate that, gang. I love that book.
And there is sex in that book, too, you know.  You needn't fear that it is 600 pages of no sex. There is, indeed, sex in it. Just not graphic erotica. Nothing explicit. Plus, it's a lot of girl/girl sex, and a little bit of guy/guy sex.  (Mostly Rudolph Valentino getting a blowjob from a young Mexican guy – a prostitute who works out of a call house off Sunset Boulevard.) (Okay, I just gave that away! But you still might want to read it for yourself and experience the exquisiteness of my use of language!)
(And for those readers who took issue with my insistence that Rudolph Valentino was bisexual – there is a great book from several years ago, a biography of Samuel Steward titled, Secret Historian, written by Justin Spring, that corroborated what I put in my own book before Secret Historian even came out. Samuel Steward details an episode of oral sex he had with Valentino in a hotel room — in Ohio!! — in July of 1926. A month before Valentino died. I'm not going to go into all those details here, but I will say that Secret Historian is an incredible book, gang, and not just because it mentions this Valentino episode. But because it is ALL about the life and experiences of an incredible sexual renegade (Samuel Steward was also "an intimate friend" of Thornton Wilder's, among just a ton of other people – Gertrude Stein, etc.)  from the days when gay sex was still very much illegal in America. I highly recommend the book if you're interested in that kind of secret history.)
Anyway. I digress! Thank you recent purchasers of Twilight of the Immortal. I appreciate it so much.
As well, I appreciate non-purchasing readers of anything I've ever written!!
Yesterday's mail brought me something really unexpected and just so sweet.  Foun Kee, my first husband, sent me a gift for my upcoming birthday, along with a little handwritten note. It really just made my day. It was wrapped in newspaper – the color ad insert from the local grocery store out there (he lives in Seattle), so it was interesting to see what people eat and what they pay for it in Seattle!
Yesterday evening, however, took a very dark and horrible downward turn!
Yes! I decided it was time to tackle the set up of the new laptop. OMG! If you think I used the 'f' word a lot just for no reason at all, you should hear what happens when I have 3 solid hours of very good reasons to use it!!
And the darn thing is still not completely set up because I still have to migrate all my files from the old laptop to the new one. Plus it was 90 degrees in here while I was trying to do all that. I was down at the kitchen table, and streaming episodes of Endeavour again, so at least that part had a sort of psychologically calming effect.  But, man, that stuff makes me so nuts.
And it makes me want to hold on to my current laptop as long as I possibly can! But then I remind myself that this happens every single time I get a new laptop and eventually I come to terms with the new one and all harmony is restored to my writing life.
And curiously enough (at least to me, anyway) – on my current laptop, I chose a photo of Tintern Abbey in Wales as the screen background. And on the new laptop, I chose a photo I took myself of Basin Street this past fall — on Halloween, actually:
It's enormous as the background of my new laptop. And I realized I must be truly happy here, gang, if I want to look at this every time I start my computer…
Okay, I've scoured the Internet to try to get a copy of one of the photos taken of Nick Cave & Kylie Minogue onstage at Glastonbury the other day, but I cannot find the exact one I want — which is on Instagram and I can't get it off of there. But I did find a decent one from the BBC, so allow me to steal it and paste it here!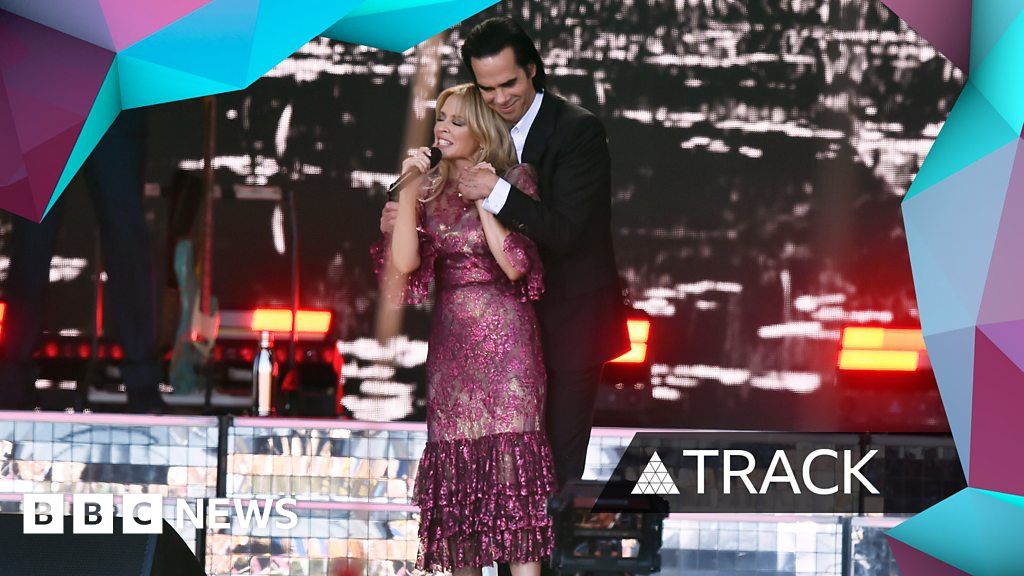 You know, being an American girl through and through, I have no real clue who Kylie Minogue is. Obviously I do know that she's a popular singer from the world beyond America, but I primarily know this because she sang that duet with Nick Cave a million years ago, and then put in a stunning appearance in the back seat of his car in the film 20,000 Days on Earth. Also, there was a really funny episode of The Vicar of Dibley many years ago (all the episodes are funny), about getting Kylie Minogue to perform at their community fair thing. (You can actually watch it here, gang. If you're not familiar with this old British TV show, it was so fucking funny.) But that is the extent of what I know about Kylie Minogue – except that she & Nick Cave looked incredibly blissed out and happy to be singing together again. (I think they might have done other things together, a million years ago, but don't quote me on that or anything. I wouldn't want to have another one of those "Valentino in a hotel room" type of arguments on my hands!)
All righty, gang. I'm gonna get this day underway. I think it's going to be all about the final editing of Blessed By Light and then finding it in myself to really switch gears and re-direct my focus to revisions on the play, finally. (I know, I keep saying that.)
Have a terrific Tuesday, wherever you are in the world!  Thanks for visiting, and thank you, again, for downloading all the eBooks. I really do appreciate the continued interest in my earlier stuff.
I leave you with a little peace of heaven. I love Jane Siberry. If you have never seen/heard her perform live (and this specific song, too), you are missing a transcendent experience. She truly sings like an angel – like something right out of heaven. And then of course, I probably don't have to tell you how KD Lang sings. Thanks for visiting, gang. I love you guys! See ya!
Calling All Angels
Santa Maria, Santa Teresa, Santa Anna, Santa Susannah
Santa Cecilia, Santa Copelia, Santa Domenica, Mary Angelica
Frater Achad, Frater Pietro, Julianus, Petronilla
Santa, Santos, Miroslaw, Vladimir and all the rest
A man is placed upon the steps and a baby cries
High above you can hear the church bells start to ring
And as the heaviness, oh, the heaviness, the body settles in
Somewhere you can hear a mother sing
Then it's one foot, then the other as you step out on the road
Step out on the road, how much weight, how much?
Then it's how long and how far and how many times
Oh, before it's too late?
Calling all angels, calling all angels
Walk me through this one, don't leave me alone
Calling all angels, calling all angels
We're tryin', we're hopin' but we're not sure how
Oh, and every day you gaze upon the sunset with such love and intensity
Why?
It's ah, it's almost as if you could only crack the code then you'd finally understand
What this all means
Oh, but if you could, do you think you would trade in all
All the pain and suffering?
Oh, but then you'd miss the beauty of the light upon this earth
And the, and the sweetness of the leaving
Calling all angels, calling all angels
Walk me through this one, don't leave me alone
Calling all angels, calling all angels
We're tryin', we're hopin' but we're not sure how
Calling all angels (calling all angels), calling all angels (calling all angels)
Walk me through this one, don't leave me alone (walk me through this one, don't leave me alone)
Calling all angels, calling all angels
We're tryin', we're hopin', we're hurtin', we're lovin'
We're cryin', we're callin' 'cause we're not sure how this goes
c – 1991 Jane Siberry