It was an interesting weekend, wasn't it? Protests the world over. And then Tr ***p behaves as if he's the pr e s id ent during all the 9 1 1 ceremonies. (And all the past pr e s id ents on view were dead: B *sh, O b * m a, B * den…)
My two favorite videos from the weekend were:
Amazing Polly: she knocks it out of the park! (16 mins):
This was an incredible speech, gang. You can watch it on R *d P * l l 7 8's te le gr am channel. It is unbelievably great. She is obviously a white hat on the warpath these days.
Another white hat? This popped up all over t e le gram yesterday:
And here's a rather massive update on the wars getting prepped all over the world. From [17] the S to r m r i der ' s te le g ra m channel:
"MILITARY>>NEWS BRIEFS
byQTSR
North Korea test-fired a long range cruise missile, test poses 'threats' to neighbors says Pentagon Turkey, Pakistan, Azerbaijan to hold "Three Brothers – 2021" joint military drills in Baku
URGENT – Russia: The Russian Northern Fleet began today a large-scale exercises in the Arctic zone with the participation of 8,000 servicemen, about 800 pieces of equipment and approximately 50 warships. _China talking about conquering Taiwan, Arunachal Pradesh, South China Sea, Senkaku Islands, Outer Mongolia and some part of Russia. _Japan's navy on Friday identified a sub sailing northwest just outside territorial waters near Amami Oshima island, Kagoshima prefecture. A Chinese destroyer was also spotted nearby. _Russia attacked Ukraine 10 times on September 13. A Ukrainian soldier was killed by a Russian ATGM strike _South Korea's military confirms North Korea's cruise missile test: _LEAKED Venezuela: Confidential information from the Venezuelan naval intelligence has been leaked out, names and faces of naval intelligence personnel have been leaked, _Israel admits to Iran's drone power, says 'deadly' UAVs can cross thousands of kilometers. _The Air Force Is Testing A New Ship-Killing Guided Bomb _Russia has 46 battalion tactical groups, 12 tactical groups, 2 missile brigades, 4 special units, as well as boats and helicopters deployed near the border with Ukraine. _For the 10th day in a row China has sent a military aircraft into Taiwan's ADIZ.. _The office of the commander of the Eastern Rafah Battalion in Hamas was attacked by the Israeli Air Force last night. Airstrikes against #Hamas Yarmouk Camp near Khan Younis in southern #Gaza. Continue into the night
_Russian airborne troops make nighttime assault landing at Russian-Belarusian war games. Forces practice landing in complete darkness while using state-of-the-art night vision equipment for the first time in their history. The training is part of the massive Zapad-2021 >drill<"
Okay.
Well, this was sad, but not surprising news anymore. From DC Clothesline:
Gov't Special Ops Demo Expert Confesses to Planting Explosives in WTCs Before 9/11
"According to Manuel Garcia Jr., he was tasked by a team created by Dick Cheney to help carry out a fa l se fl a g attack on the World Trade Centers, otherwise known as 9/11, in order to 'reshape the World Order to secure another century of US control.'"
And in more personal news…
Yesterday, I re-published the print edition of The Guitar Hero Goes Home on LULU.com. It is no longer available in print on Amazon (none of my self-published titles are there anymore.)
Oh, and I want to thank everyone who is going to LULU and buying my books there! I was surprised when I logged on yesterday and saw so many sales! Thanks, guys! Eventually, I will move The Muse Revisited trilogy there, too, and then Twilight of the Immortal. (You can still purchase those on Smashwords, but LULU is going to become my primary publishing hub.)
Meanwhile, The Guitar Hero Goes Home is in paperback, 224 pages, and costs US$12.95, plus shipping. It is experimental fiction, intended for adults. (It will be available tp purchase globally by the end of September.) You can purchase it in the US here.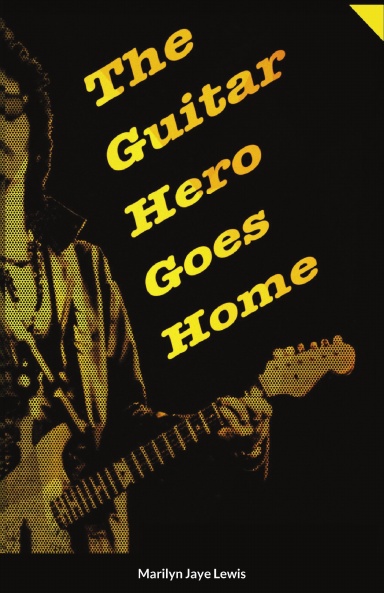 Tarot by Janine and Jean-Claude had a special livestream of Beyond Mystic last evening. News is coming hot & heavy; where is it all going? They are both going to step back and post less often. (40 mins):
UFO Man: Massive cylinder UFO sighted in broad daylight beyond some trees in Indiana (2 mins):
B * l l G * t e s will allegedly hang — if he hasn't already!! Regardless of whether or not this trial transcript is completely true, gang, at least listen to what the charges are against him. He was a horrific human being. Among other things, he killed tens of thousands of children, worldwide, with his fake v a c c in e s. (5 mins):
If you didn't know this yet, g ** gle is a va x company. Wake up, gang. Listen really closely to this! It is beyond disturbing. (1 mins):
David Bowie tried to warn us of all this when he allegedly "died" :
David Bowie's Last Post Before He Died: 'G** gle Is Illuminati. Illuminati is G** gle.'
[…] a future that was under G** gle was either doing things their way or it was the highway. There was no room for free speech or for dissidents. […]
All right, gang. You know that I go through tons of videos, news articles, te le g ram posts to gather up the news that I think is important for the readers of this blog, and I'm still coming to the conclusion that, even while there is a whole heck of a lot of really bad news out there, it feels like "old" news to me. The real news is what's coming and I know it's going to be good. I will keep you posted as best I can.
Okay, don't forget that Nick Cave & Warren Ellis are touring the UK with their newest album, Carnage. Last night, they played Ipswich. I just love this photo from the close of last night's show!
They will be in Oxford on Tuesday, the 14th, at the New Theatre. Show starts at 8pm. Buy tickets here.
Okay, that is it! Enjoy your Monday, wherever you are in the world. Thanks for visiting. I love you guys. See ya!
X * 2 r * port, Sunday Edition: They are going to de-certify (48 mins):