Yes, today is Veteran's Day here in the  United States.
It might interest you to know that I had fathers, grandfathers, great-grandfathers, and great-great-great-grandfathers who served in all the major wars here in the US.
This means that in the Revolutionary War, the Civil War, WWI, WWII, the Korean War, and the Vietnam War, the men in my family were serving. Just in terms of the historical value of that, I find that pretty impressive. (I, of course, am a pacifist. I'm guessing that comes as no surprise to anyone.) Still, I think that in terms of the history of the United States, that is a pretty impressive record of involvement in the destiny of a country.
(I think it's also interesting to note that since I was born illegitimate, I am not entitled to be an official Daughter of the American Revolution, however, technically, I am one.) (Meaning, there is no father listed on my birth certificate.) (My birth certificate would break your heart. Under father it lists: NONE. Under mother it lists my mother's name, then it says: AGE: 13.  It would make you cry. It made me cry, for sure.)
Okay. The worst possible news is that the rest of the entirety of my maple leaves fell from my tree at the same time, and I once more have more dead leaves on my front sidewalk than you can possibly imagine. I'm going to have to do something about that and I am not sure what. Raking might actually have to occur. Unless God blesses me tomorrow with an unbelievable gust of relentless wind lasting for a couple of hours. We can only hope… But I seriously doubt my neighbors are going to put up with me and my no-raking policy for very much longer. (And I can't afford to buy that leaf blower/vacuum/mulcher right this very minute.)
Well, okay.  So I was just kidding when I said that was the worst possible news.  Because, actually, if you've been listening to Dan Bongino or the X22Report, you know that this country is in a really dire situation that is set to explode into all out rioting and complete censorship of the President if Trump indeed wins the election.
It is being recommended that you have all your Government alerts switched to "ON" on your cell phones. (No joke.) So that you can receive actual government information if the fall-out is as bad as they are thinking ti will be.
If you get your email through Yahoo, you'll notice the extreme level of disinformation and censorship going on right now. It's not only appalling, it is indeed scary. The amount of information they are literally trying to block Americans from accessing. I'm guessing (for real) that if I don't stop blogging about this stuff, my blog will disappear in the coming fall-out if Trump ends up winning.
(For instance, it was one of my previous blogs that caused me to be a victim of voter fraud several years ago.  Meaning that when I went to the polls to vote, my name had been stricken from the voting records, even though I had voted many times previously. And then my name was mysteriously returned to the voting records once it was a Primary vote and not a Presidential election.  This was because they knew who I was, who I was voting for, and where I was voting, because I used to be exceedingly candid on my blog and thousands of people read it every day. I have since tried really, really hard to keep a much lower profile online.)
And along those lines, I also cancelled my twitter account. I am so sick of that censorship they are doing to people, including the President, and it is not a glitch. It's censorship of actual people expressing their views.
And once the reading of my play is over, I will be cancelling (to the best of my ability) my facebook account, as well. The only social media I really enjoy is Instagram and I try really hard not to get political there. (I'm not always successful.)
Okay, so.
I'm guessing that you've all heard that Pfizer and people like the Governor of NY State are trying to claim that the COVID vaccine did not occur under Trump's Administration. And was not part of Trump's "Operation Warp Speed" vaccine agenda, set back in May.
And perhaps you've also heard that the vaccine has been ready but Pfizer refused to announce it until after election day because they wanted it to be part of Biden's "win."
If you live in a country that had to go back into lockdown recently, I hope you are seriously angry about this.  This type of blatant anti-Trump garbage perhaps resulted in more contagions and maybe even cost human lives.
That's how bad it is: Don't release the vaccine until the fix is in and Trump appears to have lost the election… (Please tell me you're angry about this, even if you don't like Trump.) (And multiply this times every single obstructive and violent thing the Left has done during the Trump presidency to make it appear as if Trump is a lousy president, when in fact, he's been a really effective one — and then you will get a small idea of how it feels to live in America these days.)
Below, I will post the latest episodes from Bongino and the X22Report and DiamondandSilk. (The X22Report will make you cringe as well as want to vomit…) (By the way, you can keep up on all this yourself if you go to rumble dot com.)
Okay!! GREAT NEWS!!
At 5am on Thanksgiving morning (yes, why wouldn't you be awake at 5am on a national holiday???), Nick Cave is doing another one of those listening parties on BadSeed TeeVee!!
This time, we will be listening to the album Murder Ballads (1996 by Nick Cave & the Bad Seeds). And guess who will be chatting with Nick Cave??? Blixa Bargeld and Mick Harvey!!! How fucking cool, right??!!
I, for one, cannot wait to be up and on Bad Seed TeeVee at 5am on a national holiday!! (Keep in mind, the times are different depending on where in the world you live!!)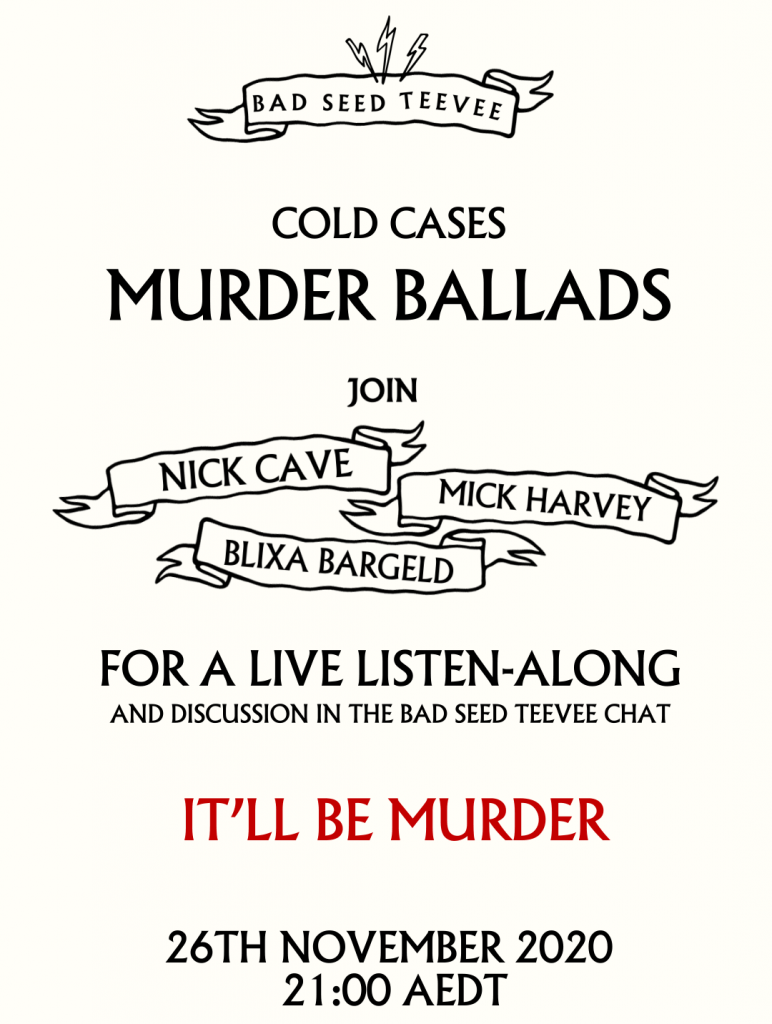 Well, all righty.
Yes, I know. I now have several deadlines for erotic short stories. So it might behoove me to stop spending so much time listening to DiamondandSilk, and Dan Bongino, and the X22Report, etc., etc., and get back to work around here!! We will see how that goes. (For instance: how can you turn something like this off?  DiamondandSilk reported last evening that 14,000 dead people voted for Biden in Detroit, alone. It's posted below.) (Lots and lots of dead people are voting in this election, gang. And every single one of them voted for Biden. I'm not sure that 14,000 voted in Detroit, but that's what they reported.)
Anyway. On we go.  I'm gonna get started here. Have a happy Wednesday wherever you are in the world!! Thanks for visiting. I love you guys, See ya!
"The Last DJ"
Well you can't turn him into a company man
You can't turn him into a whore
And the boys upstairs just don't understand anymore
Well the top brass don't like him talking so much
And he won't play what they say to play
And he don't want to change what don't need to change
And there goes the last DJ
Who plays what he wants to play
And says what he wants to say
Hey, hey, hey
And there goes your freedom of choice
There goes the last human voice
There goes the last DJ
Well some folks say they're gonna hang him so high
Because you just can't do what he did
There's some things you just can't put in the minds of those kids
As we celebrate mediocrity all the boys upstairs want to see
How much you'll pay for what you used to get for free
And there goes the last DJ
Who plays what he wants to play
And says what he wants to say
Hey, hey, hey
And there goes your freedom of choice
There goes the last human voice
And there goes the last DJ
Well he got him a station down in Mexico
And sometimes it will kinda come in
And I'll bust a move and remember how it was back then
There goes the last DJ
Who plays what he wants to play
And says what he wants to say
Hey, hey, hey
And there goes your freedom of choice
There goes the last human voice
And there goes the last DJ
© 2002 Tom Petty