First off — yes! I did finish the new erotic short story, "Code," and turned it in to Volonte last night. I will keep you posted. I was extremely happy with it. I hope they will be, too.
And speaking of my short story, "Code," I have to resort to more and more of it here. Sorry about that! I don't want to lose my blog, gang.
If you think that c*ens*orsh*ip ain't happening here in the US, you're outta your pea-picking little mind!
Please refer to this article. And take notice of this paragraph:
The OAN president told The Epoch Times late Tuesday that the video was not made public on Y** T*be and was unlisted on the platform "for review by internal OAN staff only."
I'm sorry to have to say this yet again, gang. But: they are coming for your rights to fr**speech, even fr** thought and private forums, and the right to assemble. It is serious and you should be fucking ALARMED. They do not want ANY useful and truthful information regarding C* VID getting out to the mainstream public. Once they find out that there AREN'T huge numbers of people dying anymore, then — oops! — maybe the el*ct*on was a fr*ud, too…
Please remember to use d*ck d*ck go for your news searches, otherwise you will only find propaganda.
Join P*rler and rumble dot com, if you haven't already. Millions of people have joined already and now the mainstream media is trying to smear them, too.
I was actually talking to a tech guy the other day — an educated young white guy with a successful tech company, and he happened to say, mockingly, that "P*rler is for crazy people who just want to complain."
I looked at him sort of deadpan, and said, "Actually, I'm on P*rler and it's not like that at all. It's about free speech."
He was clearly stunned that I am on P*rler.
People! I am happy that there has been such an overwhelming response to the staged reading of my play, Tell My Bones. I truly, truly am. It means a lot to me. But I earn my living, world-wide, from my hardcore erotica. And have for over 30 years. I rely on the US Constitution. I rely on freedom of speech — for me and for everyone else (in the world, frankly, but in this country, it is still a legal right).  Of course, I am going to be on P* rler!
Okay.
Since the more I post here, the greater I run the risk of getting flagged, c*nsored, removed, you must rely on the videos below to get most of the news I think you will want to hear. Primarily about the f*ke C* VID p*n d*m*c, the massive v*t*r fr*ud, and c*ncorsh*ip.
The X*2 R*p*rt last night was truly eye-opening. However, they were all really good. I especially loved B*ng*no's advice to small business owners in Airstrip One — open all at once! They can't stop all of you, at the same time!
In fact, here's something related. People in L*s Ang*l*s are really starting to fight back.
And in case you haven't heard yet — the economy is still in great shape here. The stock market hit a record high yesterday — the highest it's ever been in history. This economy happening under Tr**p.
All right, remember, gang. Read. Think. Observe. Ask yourself why the things you're experiencing and hearing about from your neighbors don't add up to what you're being told on TV.  (i.e., yesterday,  an older woman, a lady I don't even know, was actually distraught. She said, "My daughter-in-law tested positive for C* VID, but she feels fine. And my son and grandsons tested negative. They live in the same house and don't wear m*sks at home. I know people who are testing positive and they feel just fine and the people all around them are testing negative. Why are they making us wear these m*asks? I feel like I'm being lied to."
I said under my breath, "Oh god, don't get me started…"
She looked at me with alarm (I could only see her eyes because of course she was wearing a m* sk), and she said, "No, tell me. If you know something I should know about, you have to tell me."
People are starting to see that what they're hearing doesn't equal what they're experiencing. Read it again, gang. It's not simply a classic book…
Read. Think. Observe. And then remind yourself that you have the inalienable right to be free.
Okay, Nick Cave sent out an amazing Red Hand File yesterday.  It was just beautiful. It meant so much to me — it really resonated on so many deep levels. You can read it here if you so choose!
And then Cave Things sent out some awesomely cool ideas for Christmas!! Including the "best bunny bowl by rock star ever":
And don't forget!! Tomorrow morning, at the wee bonny hour of 5 am Eastern Time,  be in the chat room on Bad Seed TeeVee: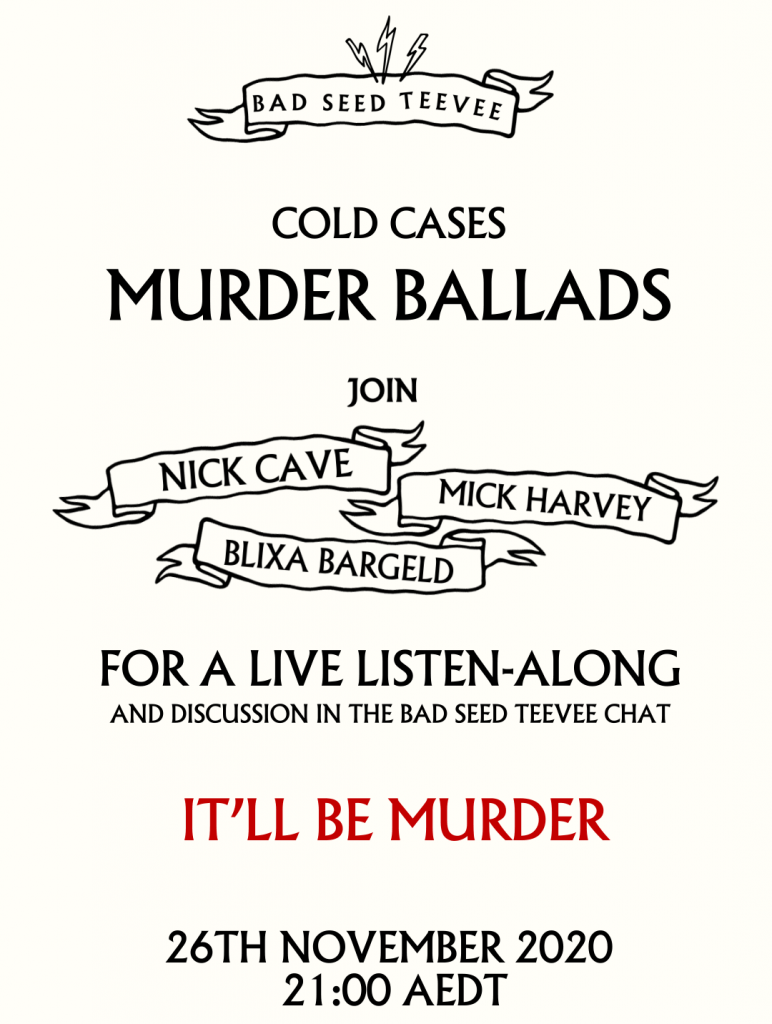 All righty, gang. thanks for visiting. I love you guys. See ya.