First of all, I can't thank you guys enough for your amazing response to the staged reading of my play, Tell My Bones. I honestly felt that Helen was watching it, too, from wherever she is now.
It really was a beautiful feeling — although, not a simple one. It was so hard for me to wrap my mind around the fact that she died only a handful of hours before the show premiered. And after 8 years of hanging in there with me. I was really just in shock all day long on Sunday. It was a difficult day for me to process.
But the reading was quite a success.
I have been notified that you can still watch the reading until Friday, and then it will become private and password protected. So, if for any reason, you want to watch the show after Friday, you'll need to get in touch with me and I will get you a password. (My email is at the top left of the blog, if you are on a computer. I don't believe it shows up if you view the blog on a phone.)
Anyway, here is the link on YouTube. (It will ask you to click another link and watch it directly on YouTube.)
Okay.
Don't forget that this Thursday — yes, Thanksgiving here in America — Nick Cave, Blixa Bargeld and Mick Harvey are doing a live chat on Bad Seed TeeVee, and deconstructing their album Murder Ballads (1996). It should be an amazing amount of fun and an eye-opening adventure for all. So, if you — as I do –live in the Eastern Time Zone, you will be super-duper thrilled to be up and awake and chatting on Bad Seed TeeVee at 5 o'clock in the morning!!!! On a national holiday!!
Yippee Ki Yi Yay!!!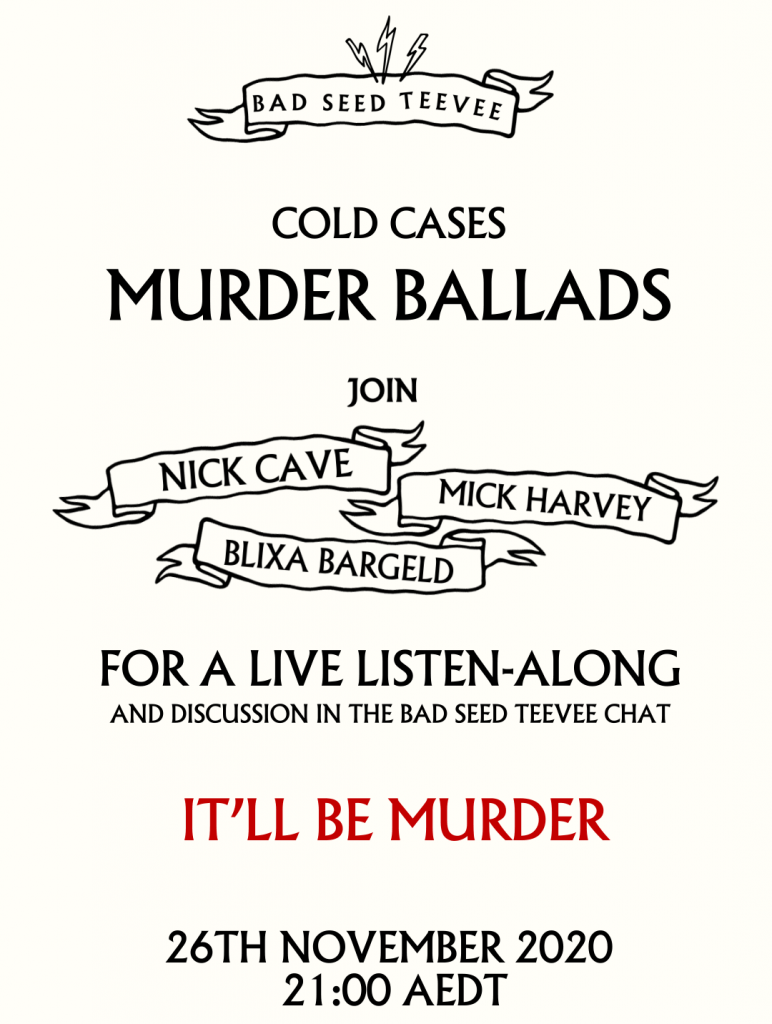 All righty. I am almost done writing the new erotic short story for Volonte. It is called "Code," and I should have it finished here in a matter of moments!! So I'm going to get focused on that.
But before I go…
Wow. First of all, we're gonna have to re-name NYC and start calling it Airstrip One. It really is getting that bad. That city is in a world of its own now, and I think we can safely blame mainstream media for successfully brainwashing a whole big bunch of them.
It's as if they really believe B* den won the election and is already the Pr*s*d*nt ial  El*ct. That v*ter fr*ud didn't play a  massive role in the election. The Tr**p is merely a sore loser and that anyone who believes there was massive v*te fr*ud is one of the "Tr**p Crazies." That C* VID is still out of control and something to be terrified of — or that m* sks work, or that l* ck d* wns work and that we need to obey these insane mandates to stay away from one another on Thanksgiving…
In fact, only yesterday, when other newspapers all over the country had screaming headlines re: D* m*inion v*ting machines, and thousands of citizens coming forward with signed affidavits about witnessing massive v* ter fr*ud in their counties, the NY Times headline (online) was:  Electric Scooters are Legal in the City.
I kid you the fuck not.
If you have never read George Orwell's 1984, you must read it now. You can get it free as a PDF online. If you have read it, but it was a long time ago, read it again.
And if it doesn't wake you up and frighten the bejeezus out of you, well then, okay, that's your business. But then don't come running to me when all fucking hell breaks loose in this country, once Tr**p is declared the legal winner of the el*ction.
Here is just one of the early signs of violent  Mob Rule vs. your Rights as a free American. (If this had happened to anyone on B* den's team… well, hmmmm.)
Also, read this. (And also, well – consider the millions of dollars that B* den and his family are purported to have taken from the C*P over the last couple of decades…)
All I can say is: Read. Think. Observe. And then Believe in your inalienable right to be free. (To vote, to speak, to assemble, to defend yourself.)
All righty. I seriously gotta scoot and finish writing that new story.
Try to work your way through these videos, gang. Each one of them has eye-opening stuff to impart. Much to ponder out there.
Thanks for visiting, gang. I love you guys. See ya! And don't forget….