My new publisher emailed me yesterday, wondering where the book blurbs were for my new erotic (very long) short story, "Half-Moon Bride," and my erotic novella, 1954 Powder Blue Pickup. Both of which are being published later this month.
Please consult your calendars and note that it is already November 17th…. !!!
It almost seems like I totally forgot because I've been way too involved in being a d*g*tal soldier in the ongoing attempted coup d'etat!!
Ooops!!!
So I gotta get those blurbs written here this morning, ASAP, before the editors get to their desks.
And, also, please, gang — don't forget that the staged reading of my play, Tell My Bones, happens this coming Sunday evening (7pm Eastern Time). You can RSVP to receive the link to the streaming event — it is ALL FREE!!
Okay, so was there news yesterday, or what? Man. I could hardly take it all in.
If you're new to the conversation, or just now realizing that the US is in the midst of a floundering coup, the best advise anyone can give or receive right now is to stay away from mainstream media.
This is information warfare, of the worst kind — blatant lies are being generated. Seek sources that do not claim that B* den is the pr*s* dential E*l*ct.
He is not. Nothing gets decided — in the best of times, which these are not — until December 14th. That is the law.
Also — watch out for Operation C* VID Panic. It is in full swing now.
99% of C* VID cases recover.
M* sks do not work. M* sks equal a violation of free speech.
L* ck d* wns do not work. They equal a violation of your right to assemble.
Spikes in C* VID? Really? False positives, anyone?? El*n M*sk, anyone? Multiplied by actual conversations with tiny town nurses on the front lines here in Ohio…
Also —
26,000 heart attack deaths were falsely attributed to C* VID in the US.
7000 deaths by poisoning were falsely attributed to C* VID here in the US.
At least one congenital heart failure death, right here in the Hinterlands, falsely attributed to C* VID, so I know it is happening.
Vaccines that are now 90 and 95% effective against the virus will be ready for the front line workers  in December. There will be 25 million doses generated every month.
99% of the virus cases are not lethal.  It is like having the flu. If you are hospitalized, therapeutics are now available to help cure you, if you are not at-risk from other life-threatening complications (just like the flu).
The stock market is at a record high.  They expect to break another record today. Fewer and fewer people are dwindling away on unemployment here in the US; a whole lot of people have gone back to work.
M* sks do not work. M* sks equal a violation of free speech.
L* ck d* wns do not work. They equal a violation of your right to assemble.
So why was the entire State of California put into extreme l*ck d* wn again yesterday?
Why are (certain) Governors behaving almost as if they are a Socialist reg *me?
Curiouser and curiouser, gang. Although not at all amusing to those who are experiencing l* ck d*wns for no valid reasons whatsoever. (Ohio is also having renewed issues now, too. So far, no l* ck d* wns, though.)
Remember: if this stuff worked, there wouldn't be these renewed (alleged) spikes of the virus.  (Yes, a virus that now has vaccines and therapeutics to treat it.) People, please use your heads on this, regardless of your political affiliations in "normal" times.
Okay. So. Nick Cave sent out a really cute Red Hand File yesterday, about humor and haikus. You can read it here.
And don't forget, next Thursday morning — yes, Thanksgiving!! At the refreshing hour of 5am, if you live in the Eastern Time Zone — Nick Cave, Blixa Bargeld, and Mick Harvey will be deconstructing Murder Ballads in the chat room on Bad Seed TeeVee!! I, for one, just can't wait!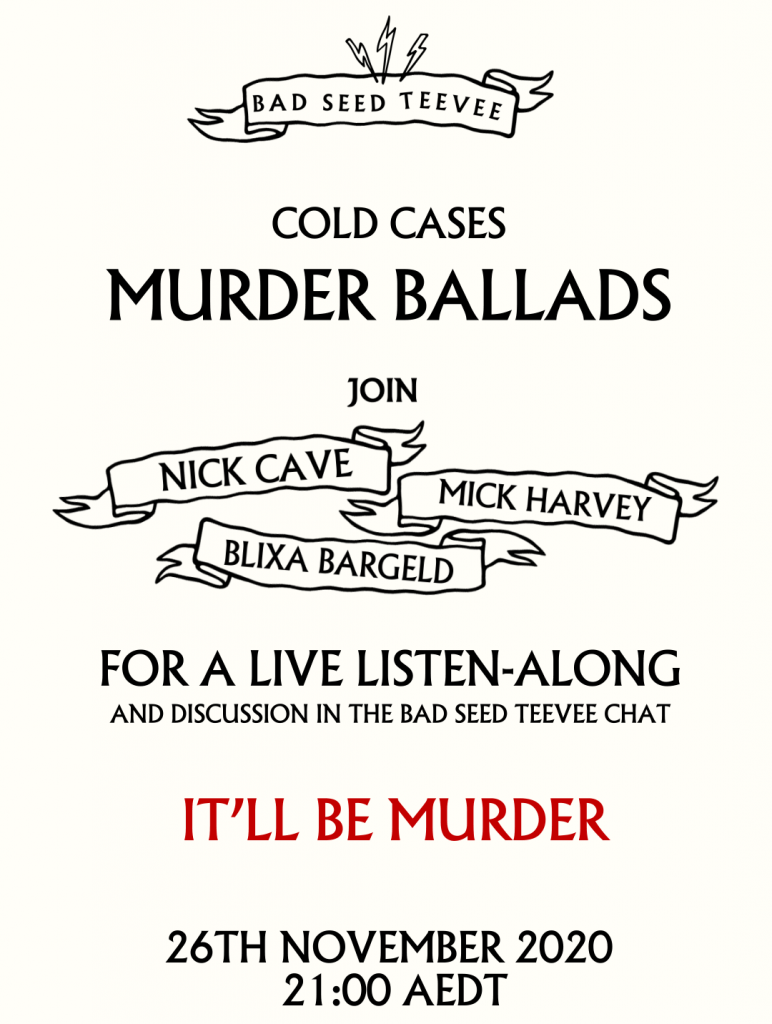 All righty. Let me get to work here on those book blurbs.
Have a terrific Tuesday, wherever you are in the world. The videos below the music will disturb you but overall, give you a LOT of hope!! Seriously. NO ONE IS ROLLING OVER & PLAYING DEAD. You gotta watch them. Or, as the X *2 R* p*ort said last night, "The evidence will blow the minds of every person in this country…"
Okay, thanks for visiting. I love you guys. See ya!