I'm going to be brief today, gang. I have a lot to do before I leave. And I have to leave early because I got one of those dreaded notices from the post office yesterday: They tried to deliver a certified letter to me that requires a signature.
Obviously, somebody somewhere wants money from me….
Anyway. The news continues to be dire, all over. And yet the feeling of happiness and joy here persists. I know better things are coming, gang. I hope you feel it, too.
Yesterday morning, for some inexplicable reason, I suddenly decided to make my bed for the first time in about 16 months. Meaning that I got out the chenille bedspread and the throw pillows.  I had spent a good part of the weekend, dusting and also moving furniture and vacuuming under stuff for the first time since Christmas.  So maybe that is what prompted me to finally make my bed!
Regardless of what is really going on here, I am just feeling very, very happy and hopeful about Life. In spite of all things that point to the contrary.
The other day, with one of my unexpected  royalty checks (!!), I bought a pair of high frequency earrings from Holotech.biz. The kind I bought are now out of stock, but they are the gold ones in this photo: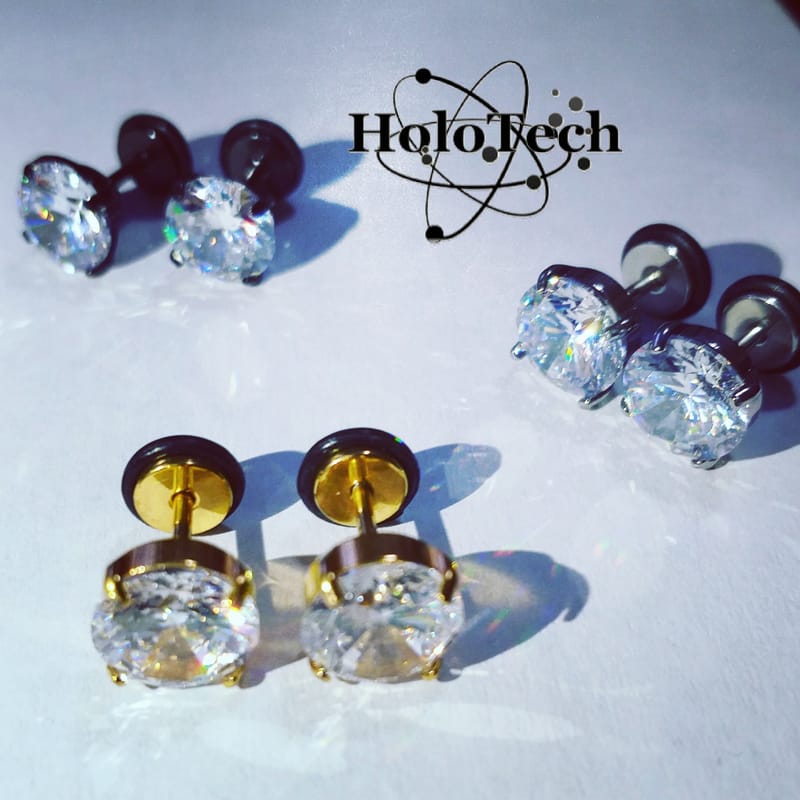 The frequencies they contain are supposed to help with all sorts of brain functioning. Including:
Enhanced manifestation *Limitless neural-net ULTIMATE processing *Ginkgo biloba: short-term memory *Frequencies to merge brain hemisphere's *DHA) and eicosapentaenoic acid (EPA), two types of omega-3 fatty acids. *Resveratrol: improve memory and brain function. *Phosphatidylserine: for preserving brain health, improve your thinking skills and memory. *Acetyl-L-carnitine: helpful for treating a loss of brain function in the elderly *Creatine: help's improve memory and thinking skills in people who don't eat meat.
I could not believe how beautiful these earrings are in real life.  They sparkle like crazy.  And they are just so well made. I can't attest to the frequencies yet, but I had the best night's sleep I've had in a really, really long time. It was sort of amazing.
(Holotech is run by an ET, King John Smarty. I follow him on t  e  l e  g ram and find the whole thing strange and amazing.  You don't have to purchase jewelry to get the frequency benefits. He has tons of free downloadable holographs. And there are simply tons of extremely positive testimonies from people who use his holographs or who buy the various types of jewelry he offers.)
So this is my first step into the world of ETs on Earth, as far as I know.
Okay. Cave Things sent out an announcement this morning about a 7″ vinyl single  now for sale (£20, plus shipping). Nick Cave and Warren Ellis set to music a letter from Cynthia to the Red Hand Files back in 2018.
I remember her letter very well. It is not as sad as the title would make it seem. I'm guessing the song they've created about it is quite moving and beautiful. Obviously, I haven't bought it so I don't actually know. And my record player no longer works!! However, you can purchase it here. And then let me know what you think!!
Okay. I gotta scoot!!! Have a terrific Tuesday, gang, wherever you are in the world!! Thanks for visiting. I love you guys. See ya!!
******************************
Below: M ichael J * co chats about all things Venus. Don't miss!! (1 hr 34 mins):
Below: P a trio t street f ighter . This moves to rumble dot com when it is removed from YT. (44 mins):
Below: R * d P * ll 7 8 News Shorts (2 below) (12 mins and 13 mins):
Below: X * 2 R * port (47 mins):