Yes — if you must know — I bought more dishes yesterday.  A set of four stoneware appetizer plates that look like this:
I know. Don't look at me like that. I am fully aware that I never, ever, ever entertain anymore, and that I already have something like 25 appetizer plates, most of them porcelain, Limoges. Some that look exactly like this:
And others that have charming depictions of Provence on them. Still others that have just various French farm logos and windmills and cows and  cocks  roosters and stuff.  And, yes, I have some covered in flowers, but none that look exactly like the ones covered in flowers that I bought yesterday! So you can readily see why I needed them.
I've already stated plainly — right here on this blog — that it is an addiction, this problem I have with buying dishes. And an addiction is sort of like a disease. So, you know, some compassion would probably be cool right now…
But, honestly, they were reduced for clearance. And I loved them. And I had  to have them. And so I bought them. And, no, I can't imagine a moment in time when I will ever use them at this point, because I live in the middle of nowhere with a bunch of cats, and perhaps, soon, a bunch of AI sex robots that look like Henry (probably around 30 of them) (and, actually, in that case, I will have almost enough appetizer plates!):
Anyway.
Yesterday, I also bought — yes — a treadmill.
(This is where the title of today's post likely comes from!!)
I am just so tired of it. While I had the virus, I gained 10 pounds. Once the virus was gone, and I could get out of bed for more then 2 minutes a day, I lost 8 of those 10 pounds immediately. However, even though I always eat exactly the very same organic vegetarian non-GMO boring things every single darn day — I put all the weight back on!!
So I started to do the aerobics, which helps, but its nowhere near as effective as seriously moving around every day, which I haven't really done since the quarantine started here in mid-March. And even though the glucosamine  supplements seem to have fixed the problem with my hip joint, I'm still really squeamish about walking too far from home and then maybe having the hip problem start again and have to walk all the way back in all that awful pain.
I love treadmills. And, in fact, in the days when I was always at the country club (I know!! I'm absolutely white!! But, hey, that's where I met Gus Van Sant Sr and my whole life changed!!). Anyway, I was always on the treadmill at the club. I just love those things.  So yesterday, I decided to get one of those really inexpensive ones, that, unlike Henry, has no bells or whistles, and folds up for storage. This way, if I do have any pain in my hip joint, I can just get off the treadmill, sit down at the kitchen table and stream something really  delightful on the iPad!!
Which is sort of a way of saying that I am still loving that Belgian crime procedural, Professor T. Jesus, what a fun show. I am almost done with the available episodes. There was still one more season that was made (Season 3), which I'm guessing PBS will add to the stream next summer.  (Currently you can stream Seasons 1 &2)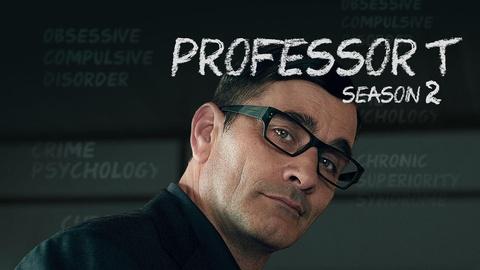 And that reminds me that the new season of Endeavor begins in August!! I had read it wouldn't air until June of 2021, but this was erroneous information. It will actually air next month and I can't wait. It is truly one of my very favorite shows.
But, regarding the treadmill — we'll see how it goes. I was a little leery of buying any more workout equipment because it's always so hard to get rid of it when you don't want it anymore.  (In the past, I've had a rowing machine and a stationary bike.) But I am so fed up with this COVID 19-related metabolism thing. It clearly looks as if it will be 2021 before I will really be able to go anywhere and do anything. And I had to do something. I absolutely cannot stand to put on weight. It makes me insane.
(Which reminds me, the director of Tell My Bones and I are considering putting together some sort of staged reading of the play, but in very short, edited segments and using local professional talent — of which there is actually quite a lot out here; there's a lot of professional theater in the next town over, where the director has his summer mansion-on-the-hill, and certainly a ton in Columbus. However, we have to wait for the lockdown to be truly over in order to even think about that.)
Then the other thing I did yesterday, was: I deleted TikTok from my phone. I had been hearing that India banned TikTok and, honestly, I had no idea why and I kept meaning to investigate that, but for some reason I thought it was related to the many many many scantily clad young men doing all those amazingly provocative dances.
It turns out, it was more sinister than that. When I saw that Australia was getting ready to ban TikTok, as well, I saw a new piece on the BBC about it and was kind of stunned.  China is just really off the charts. (China freely monitors you and tracks your data through the TikTok app.) So, just to make it a non-issue, I deleted the app.
It was a fun app, but honestly, I spend way more than enough time scrolling through Instagram!!! It's kind of gotten ridiculous during this pandemic — the amount of time I spend on Instagram.
What's ironic, though, is that scrolling through all those little TikTok videos really helped me pass the time while I recovered from the fucking virus — also a gift from China…. (And I am still so enraged about them forcing those Uyhgur women to have their heads shaved and then trying to sell us their hair!! If anyone ever shaved the hair off of my head, even if I weren't forced into an internment camp while they were doing it, I would feel so demoralized. )
Oh, crap. Anyway.
Well, I did do some editing on The Guitar Hero Goes Home yesterday, but as I leaped back in to editing Chapter 7, it became apparent that too many weeks had gone by since I had begun the final edit on the novel and that it's probably a good idea just to go back to page 1 and do a final final edit. I had sort of lost the momentum of the voice – if that makes sense. And since the entire novel is just one man talking, staying on track with that voice is key. So I'm going back to page 1 today.
And while sorting through the mound of papers on the floor next to my desk (underneath the always-growing mound of photos of Nick Cave that I print off of the computer and put on the floor next to my desk), as I was searching through that for the newest edits of The Guitar Hero Goes Home,  what to my wondering eyes should appear but — yes — the new pages of Thug Luckless: Welcome to P-Town!! I had totally forgotten, for a moment, anyway, that I was one-third of the way in to writing a completely new novel.
So. On we go — right, gang??
And on that note, I guess I better scoot!! I hope you are having a great Wednesday, wherever you are in the world!! I leave you with another old song from my wee bonny teenage girlhood.
I recently began following Stephen Bishop on Instagram, and was, of course, reminded of this amazingly lovely sad poignant song of his from when I was 16. (Talk about a perfect song for a melancholy  16-year-old girlhood!!) If you're too young to know this song, it is really lovely — all about heartache (with which I have yet again been struggling here). So listen and enjoy — or cry or whatever suits you!! Thanks for visiting, gang. I love you guys. See ya.
"On And On"
Down in Jamaica, they got lots of pretty women
Steal your money, then they break your heart
Lonesome Sue, she's in love with old Sam
Take him from the fire into the frying pan
On and on, she just keeps on trying
And she smiles when she feels like crying
On and on, on and on, on and on
Poor old Jimmy sits alone in the moonlight
Saw his woman kiss another man
So he takes a ladder, steals the stars from the sky
Puts on Sinatra and starts to cry
On and on, he just keeps on trying
And he smiles when he feels like crying
On and on, on and on, on and on
When the first time is the last time
It can make you feel so bad
But if you know it, show it
Hold on tight, don't let her say goodnight
Got the sun on my shoulders and my toes in the sand
Woman's left me for some other man
Aw, but I don't care, I'll just dream and stay tanned
Toss up my heart and see where it lands
On and on, I just keep on trying
And I smile when I feel like dying
On and on, on and on, on and on
On and on, on and on, on and on
On and on, on and on, on and on
©  1976  Stephen Bishop